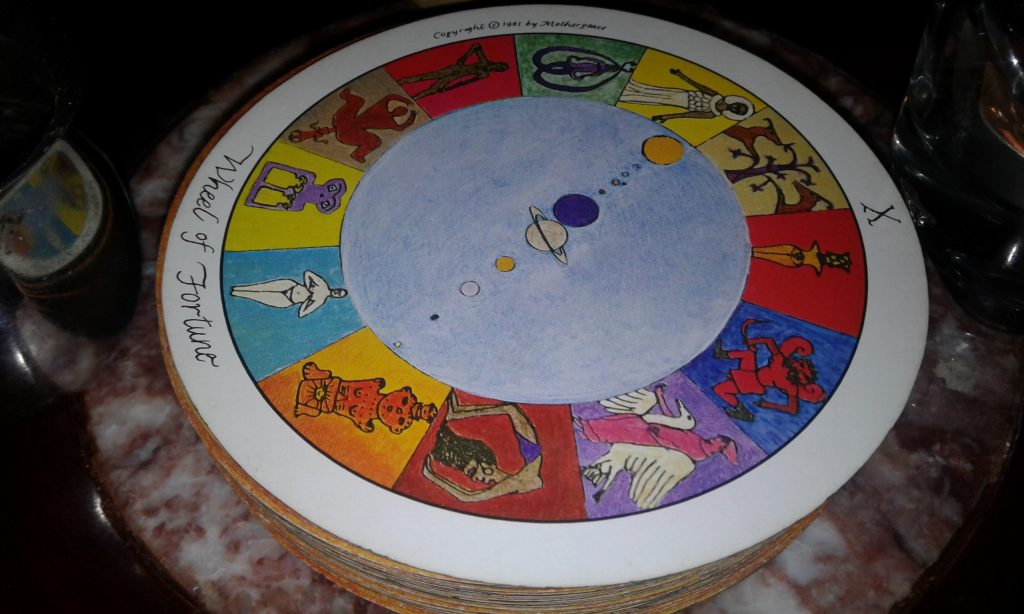 epilogue of a
year of the woman on today
creative wheels turn.
                                                                        -an iiiYansa J. Muse Haiku
2018.12.31. The Wheel of Fortune is a card that encompasses 12 readings in one, depending on which sign is the ascendant. This card holds a lot of astrological influence, and it is a Major Arcane card in the Motherpeace Round Tarot Deck. When this card appears, it speaks to the uprooting out of the life you knew and into a path that is new. The sign on the ascendant reveals what kind of change this will be. In this particular draw, the sign of Cancer is on the ascendant. Cancer is the cardinal water sign that ends spring equinox and begins summer solstice. For this card, Cancer appears as a water goddess that is embracing herself by her breasts. Her message for you is to focus on balancing the energy in your heart. Trust yourself this year to heal and love yourself with complete honesty. It will uproot from the guarded aspect of your life that you know into a blessed openess. Ase!
Signed,
iiiYansa J. Muse
Goddess in the Vast Oceans of Inner Tide
P.S.S. Would you like to hear more mystic moon information infused with my original poetry and old skool grooves? Then beam up to my radio station, 222.9 The Mothership! !