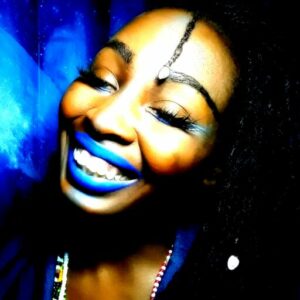 iiiYansaje T. Muse is a Priestess of Oya, (Iya Odujinmi Oyabunmi Funimole Abimbola) is a 7-year professional prophetic counselor, visual artist, poet, radio host, author, and mystic journalist. As a spiritual counselor, iiiYansaje is fluent in over 16 different forms of divination, including astrology, numerology, dream interpretation, obi, six tarot decks, automatic writing, and conjure arts. They all back up her first line of ethereal intuition. 
Her performing art focuses on sacred dance, radio, theater, and jazz poetry. She is featured on the Season 1 cast of "Galactical Goddesses." In visual art, she is the sole creator of iiiYansa's Glass Gourd, an infinite collection of recycled wine and spirit bottle paintings. With this artistic platform, she creates home and business blessing décor, centerpieces for special events, CUSTOM ORDERS, and themed collections. She is also a radio host with 17 years of experience in public radio.
iiiYansaje's published written works include "Crying Diamonds: 11 YEARS LATER," her firstborn Poetry Collection,"  "All Things Aries," and "Memoirs in Waiting," the first volume of her mystic arts journal, "The iiiSangoma". The journal's feature article is a grassroot film titled, "Legba, Christ, and the Crossroads," She also has guest articles in TRE Magazine (July 2011) , Visit Black Houston Magazine, and HOTEP Magazine. She also has a chapter in the collective book project, "Unmasking the Truth Behind I'm Good," alongside Dr. Jayco McCowan, Ennun Walker, and Kevin Trent.
More of her writings can be found on her upcoming series of blogs, "The Windsong Kraal of Oracles: Mother Blue Hues (Mondays),  The Peridot Poultice (Tuesdays), The Malbec Planetarium (Wednesdays) iiiChings & Scarlet Serenes (Thursdays), Honey, Love and Warpaint(Fridays), The Jester's Intersection (Saturdays), Alabaster Divine (Sundays), and Ancestral Legacies for the ancestors.
On February 22. 2021, iiiYansaje launched an online radio station, 222.9 The Mothership, Your Mystic Haven on the Airwaves. It is a radio station that preserves the genius of black music as well as teaches the ways of the mystics. It can be accessed on the The 222.9 The Mothership App, or www.poeticallymused.org/mothership.
iiiYansaje is an HBCU graduate, holding two bachelor's degrees in theatre arts and mass communications media study. She is also a member of Zeta Phi Beta Sorority, Inc. In the future, iiiYansaje aspires to continue to create a large, stout body of creative work that heals, enlightens, entertains, and inspires others…all because she believes that the highest form of spiritual healing is creative expression.
For more information, Visit www.poeticallymused.org
For more information, Visit www.poeticallymused.org